Each season we host five or six free music events.   We have create some 'standards' that our followers look forward to each year.   
 ~~~~~~~~~~~~~~~~~~~~~~~~~~~~~~~~~~~~~~~~~~~
Our normal season starts with Tunes from the Crypt.   Our Own Joanne Owen plays spooky, creepy music by candlelight that is befitting of the Halloween season.   Following the concert, attendees are welcomed to join the local ghost tour through the cemetary.   Eek!  Watch out for things that go bump in the night.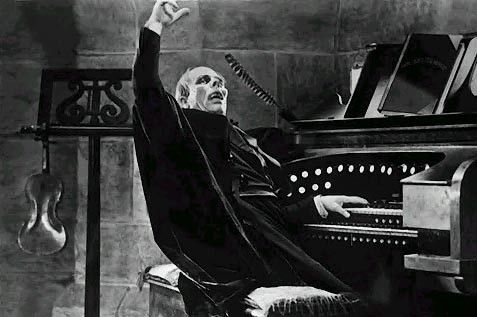 Another standard to our season is our Pics & Pipes Silent Film Festival.  Our organist is well versed in each film and shares all kinds of tidbits  and little known details about each movie prior to its showing.     He is great for telling us little secrets to watch for in the flick.  What a hoot to watch the likes of Charlie Chaplin or Buster Keaton.   It always proves to be well attended and a fun evening.

~~~~~~~~~~~~~~~~~~~~~~~~~~~~~~~~~~~~~~~~~~
~~~~~~~~~~~~~~~~~~~~~~~~~~~~~~~~~~~~~~~~~~~
Dueling Organs, another well attended event, is held every other year.   Gordon Turk and Michael Stairs create an interesting afternoon  concert with two organs.    This event is back again for the 2015-2016 season.

Dueling Organs, Gordon Turk
 Dueling Organs, Organ No. 1
Woodstown Choral Group entertained concert goers at Music in Bloom, May 2014
Music in Bloom, Woodstown HS Choral Group
Music in Bloom, Woodstown HS Choral Group
Music in Bloom, Woodstown HS Choral Group
 Our seasons are rounded out with concerts featuring special guests.   We have held concerts in conjunction with the Bay Atlantic Symphony, the Rowan University Wind Ensemble, the Rowan University Jazz Ensemble,  and in 2014, the Woodstown High School Jazz Band and the Woodstown High School Choral group as pictured above.